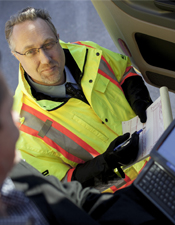 Shawn R Reilly, CRSP, CDS, CDER
In early 1996, my journey into the world of safety and compliance started with a "bang." Well, more of a crash really...I was injured on the job due to poor housekeeping standards and a fall (I was not paying attention to task), which resulted in 3 crushed bones in my hand.  As a result of this injury, I was fortunate enough to be provided an opportunity for training in a different career path (trucking) through the Canadian Trucking Human Resource Council.  Shortly after graduating the program, I was offered a compliance position at a local trucking company that dealt with the automotive sector.  
The opportunity for learning was excellent for a young up and coming safety professional with exposure to trucking, occupational health and safety, international logistics, and warehousing/cross docking.  The cross over between safety and human resources in this industry was also very apparent with labour relations, disability management, and substance abuse prevention being part of the safety group's responsibilities. In 2005, my mentor and boss encouraged me to investigate further education to support such a diverse role.  
After receiving some industry specific designations, I was introduced to the CRSP in 2006 and began the long journey to join the ranks of the "safety elite." CRSP represented, for me, the gold standard of Canadian Safety Professionals, validation that I understood how to manage safety programs, and career opportunities for me to move into safety management/leadership roles.  I attained my designation in 2007 and have maintained it ever since.
My work as a practicing Health, Safety, Security and Environmental (HSSE) professional has introduced me to many industries, and each and every day I continue to learn. In 2014, I joined a diverse group that exposed me to emergency response, bulk liquids and chemical trucking, biomass, and flatbeds.  I am also graced with the chance to work with shipping, rail, forestry and paper operations. The sky is the limit; my CRSP knowledge and designation blends seamlessly across all of these industries, and has helped me support the needs of a world class organization.  
Safety touches every aspect of the work every one of our employees and contractors do.  The CRSP is the only national designation that helps employers and organizations recognize the knowledge, innovation and effective solutions to safety challenges that you bring to the job.  The designation provides a level of confidence that people can depend on your competence.
I'm very proud to say that I'm a CRSP.  CRSP helps me ensure that those I work with go home safe… every day.
Shawn R Reilly, CRSP, CDS, CDER