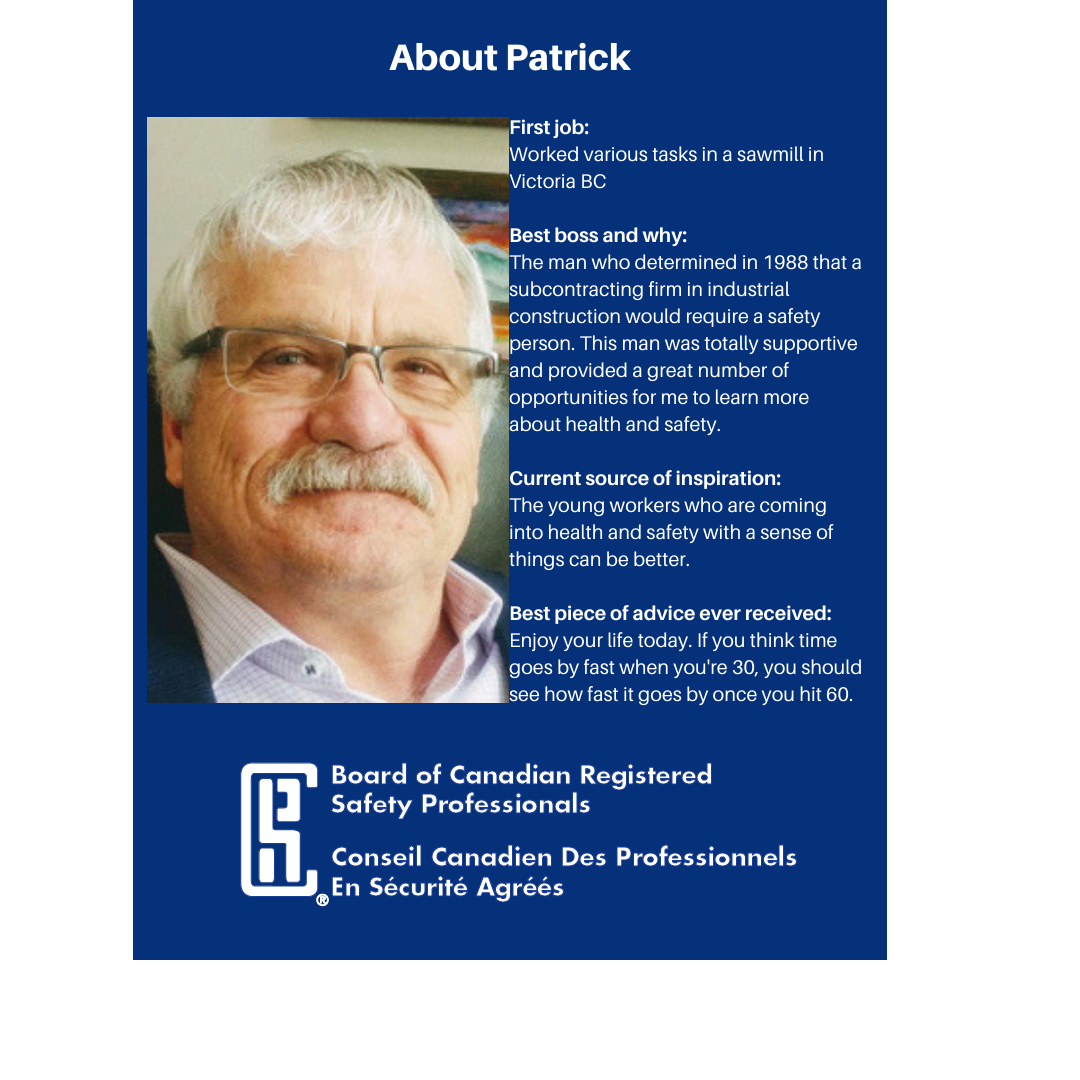 When did you decide you wanted a career in occupational health and safety?
Upon recovery from a rather severe fall in 1988, it was the old fashion way of becoming a safety person. He who fell the furthest and survived became the safety guy. At this same time my employer, who was both a supplier to industry and contractor, felt the new (original 1988) WHMIS was going to have a big impact on the operation. I spent a lot of time dealing with WHMIS prior to spending much time with worksite safety. I spent about a year doing this and was surprised to find I could make a career out of safety.
What was your first occupational health and safety position?
My first position was with a mechanical insulation contractor/supplier and the job title was Occupational Health and Safety officer. I travelled most of western Canada for over 12 years. The job title fell out of favour over the years as that title belonged to government.
Tell me about your current job. What are your main areas of responsibility?
Currently I work for a Canadian construction company based in Quebec, although my office is in Calgary. We build wind farms and solar arrays. My main area of responsibility is to manage the other health and safety professionals we have working on various sites across the country. My role has me very involved in the process of helping to bid for work as each bid requires a site safety plan.
What do you love about your job?
I love providing advice and consultation to our various sites. The best part of my day varies, depending if I am on site or in the office. When I am on site, I enjoy the whole day of interaction with the supervision and workers. The days I am in the office I enjoy having just had a phone call that leads to a successful outcome with a concern.
What are the challenges you experience in your job?
I think my biggest challenge is in the issue of what is measured by way of statistics. I find that we can become embroiled in the act of number crunching instead of preventing the need for the numbers to be crunched in the first place. Another challenge is new safety people, because most people come to safety with good intentions and an education, buy they often lack the field experience to safely interact in a functioning construction site.
What skills are important for success in the OHS field?
The skill sets are varied depending on what area of the industry you are in and what position or level of responsibility you hold. I would have to say that a general level of skills is required, and soft skills and hard skills are both essential. I have a firm belief an apprenticeship program should be incorporated for safety people who want to work with people in dangerous and hazardous situations.
What tips do you have for new grads or those in entry level OHS positions who want to move up the ladder?
Take all the training you can fit into your life. While in the training course, meet and maintain contact with your classmates. The people you meet from different industries or just different companies can be immensely helpful as you navigate through your career.
The OHS field has been evolving. What changes excite you most?
I have been in health and safety since 1988 and the changes have been phenomenal. What I find the most exciting at this point in my career is the possibility of the safety role becoming a profession. The idea of a regulated process from entry level up to the experienced safety professional is very exciting.
What's the future of the OHS profession?
I believe the future is bright as more and more industries and individual companies are beginning to understand the value of a safety person on the team. More educational institutions are partnering with industry to identify what safety means to them and helping to establish curriculum.
What do you do when you are not working?
When I am not working, I go fishing in the summer and read and take courses in the winter. I used to do a lot more in the early days of my career. I taught first aid most every weekend for 20 years and H2S Alive as well many other safety related programs.