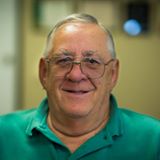 Kenneth G. Wilkes, CRSP
(76-061CM)
March 31, 1944-April 2, 2020
It is with sadness that we advise certificants that Kenneth G. Wilkes, CRSP, passed away peacefully on April 2, 2020 at Lakeridge Health Oshawa, Ontario, after a courageous battle with COVID-19.
Ken, a construction safety specialist, was a Charter Certificant having been granted his CRSP designation in 1976 along with 74 other health and safety professionals in the inaugural year of the certification program.
In the early 90s, Ken volunteered his services and served as a Governor for 15 years from 1994 to 2008. He tied the record with Avery Spencer as the second longest serving Governor (Woodrow French, CRSP, was the longest serving at 17 years).
I don't recall Ken missing many meetings in those 15 years. He was always one of the first to arrive at Board meetings and always greeted me with his infectious smile and a "Good day, Mr. Fletcher, and how are we today?" He loved technology and always seemed to have a new device at each meeting along with several apps which he was more than happy to share.
Ken was very proud and extremely protective of the designation, taking on the role of Disciplinary Review Committee Chair. He contributed to the development of guidelines and procedures for actively investigating and bringing forward recommendations to the Board for alleged unauthorized use of the designation.
He, along with others during the organization's formative years, helped lay the groundwork for what has become a national and internationally recognized certification program.
Ken was also very cognizant of the importance of the organization's financial stability. He was always supportive of dues and fee increases to support the growth of the designation and development of important Board initiatives.
Over the years, we progressed from being professional colleagues to friends and I very much valued that friendship. I was saddened with the news of his untimely passing. I do recall the last time we spoke. I had retired and had asked him when he was going to do the same. His response, not surprisingly, was, "Retire? I'm having too much fun to retire!"
Peace be with you my friend.
Peter Fletcher, CRSP (NP) 79-212
BCRSP Executive Director 1979-2010
To view the obituary or leave condolences, click here