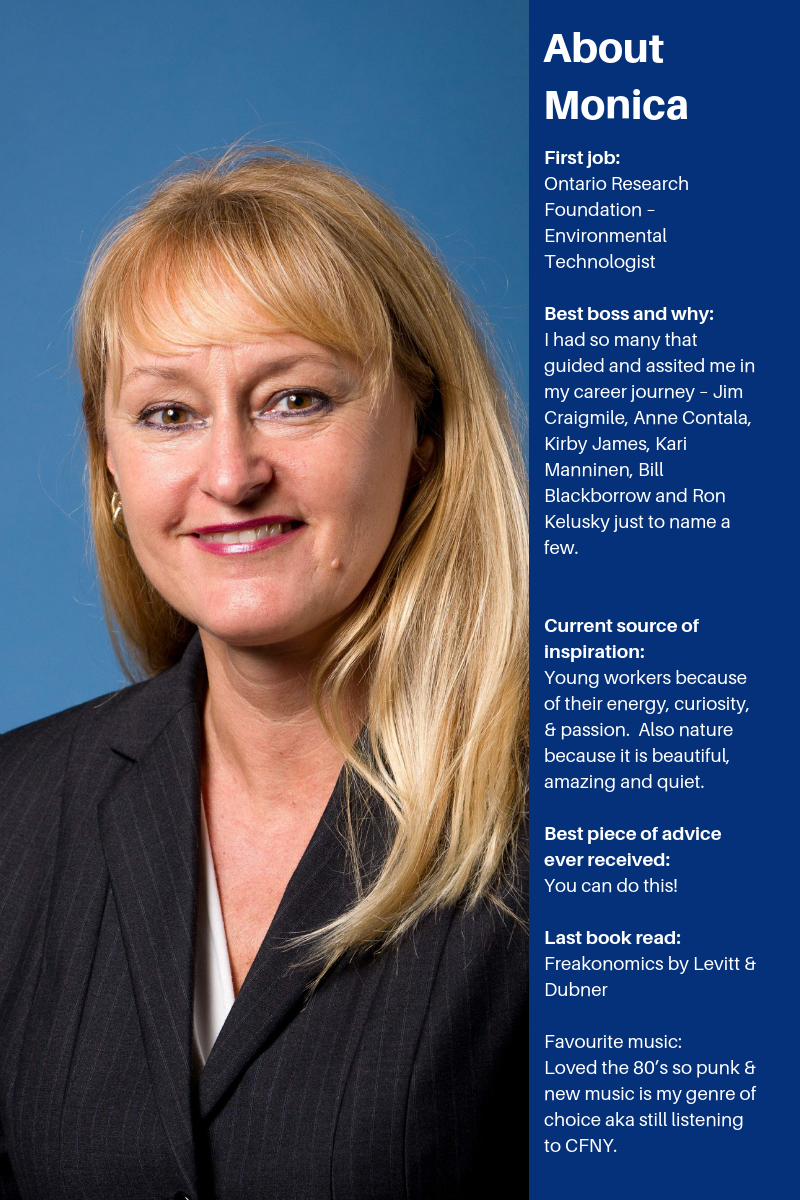 When did you decide you wanted a career in occupational health and safety?
I was working in the environmental field at a research organization and had an opportunity to work in the occupational hygiene group. After working in the hygiene field, I decided to broaden my knowledge & experience into safety to round out my experience in OH&S. I did this intentionally to increase my marketability and opportunities.
What was your first occupational health and safety position?
Health and Safety Consultant/Occupational Hygienist at the Municipality of Metropolitan Toronto.
Tell me about your current job.
Currently I am working with organizations leading change including implementing audit recommendations, integrating health and safety into regular business, assisting with choosing a health and safety management system (HSMS), improving the internal responsibility system (IRS), and building senior leadership commitment.
What are your main areas of responsibility?
As Executive Director, I was responsible for strategic planning, budgets and operations related to the delivery of government, municipal and public safety training products and consulting services to clients and stakeholders, and for ensuring the quality and effectiveness of products and service delivery. I bring the knowledge, skills and abilities I have built up along my career path to projects I am working on with my current client group.
What do you love about your job?
The variety, when successful change implementation happens, developing customized approaches to match or change current culture of the organization. I have always enjoyed leading a team, helping them find and use their strengths & knowledge, helping them reach their full potential and giving them work that is satisfying & enjoyable.
What are the challenges you experience in your job?
The same things that I love about my job! The variety, change implementation, developing customized approaches to match or change current culture of an organization.
What skills are important for success in the OHS field?
Building the skills that make you a trusted partner are critical. Continuous learning is important as well as keeping up to date with current trends in management and leadership skills, good facilitation skills are a must not just in the classroom but for all interactions, and the ability to have a broad view are a necessity.
What tips do you have for new grads or those in entry level OHS positions who want to move up the ladder?
Be patient, actively work at building your skills in human relations and business, and find good mentors.
The OHS field has been evolving. What changes excite you most?
These are exciting times for health and safety in Canada. Pursuing title protection, building a framework that unites us here in Canada and globally, working with other H&S specialities to build a community, and increasing our exposure with employers and regulators to name a few.
What's the future of the OHS profession?
Continuing to map our own framework against a global framework to ensure Canadian OHS professionals and practitioners are well positioned in the global marketplace. Ensuring that employers are hiring the right people to be their trusted resources for health and safety - Recognition of the profession is key.
What do you do when you are not working?
Hiking, taking care of Great Danes & ducks, gardening and harvesting my veggies, and hanging out in the Florida Keys.