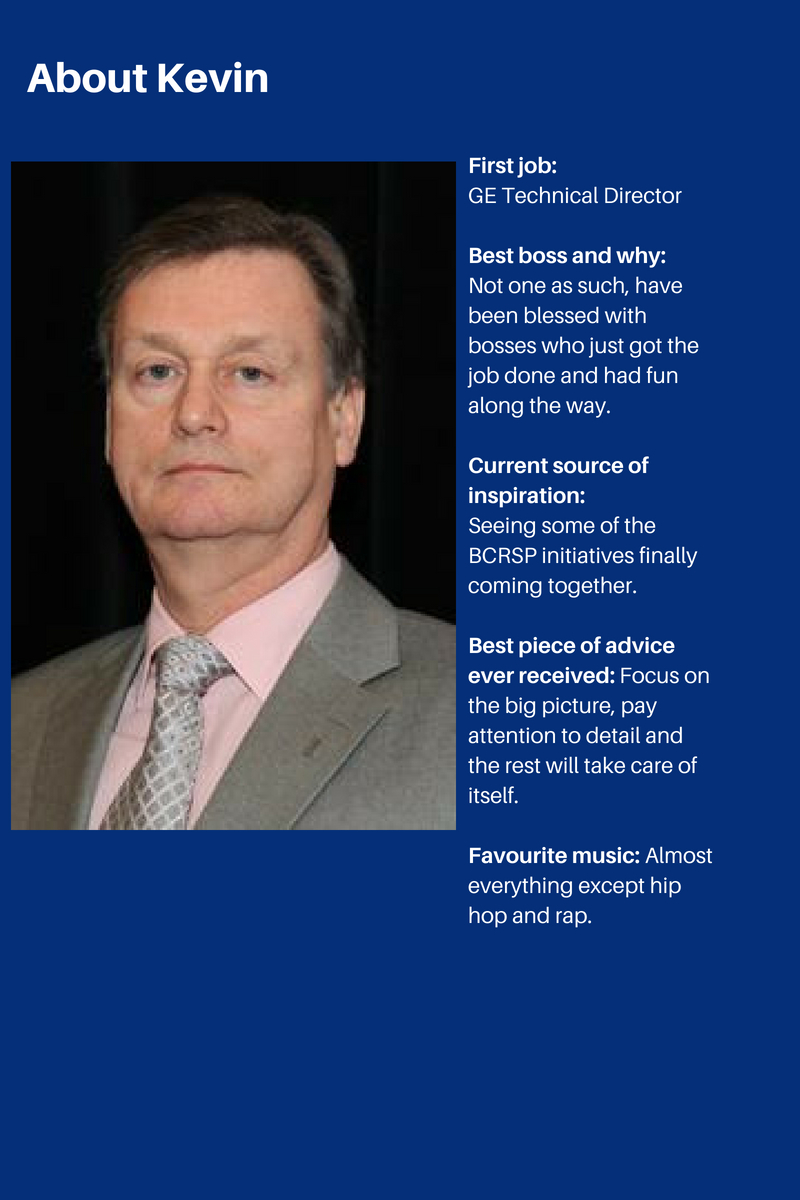 When did you decide you wanted a career in occupational health and safety?
I began my career as a field engineer with GE Canada and much of my work was in overseas locations where worker safety was not a consideration or priority. I witnessed the terrible impact such attitudes have on workers and resolved that safety would be the primary consideration in any activity that I was involved in.
What was your first occupational health and safety position?
I was functionally accountable for safety and health issues for much of the first half of my career in both operations and engineering settings. However, in 1992 I took the position of Manager, Labour Relations and Safety at a major electric utility. A requirement of the position was to obtain the CRSP certification which I did in 1998.
Tell me about your current job. What are your main areas of responsibility?
I am currently semi – retired with much of my time devoted volunteer activities in the area of Occupational Health and Safety.
What do you love about your job?
Being able to participate and to help shape the future of the safety profession and to help improve safety in the workplace generally. At this stage in my life what I do is not as much a job as a mission so I being able to contribute in a small way is an honour and privilege.
What are the challenges you experience in your job?
I face opportunities not challenges. For too long workplace safety has been viewed as something that just happens whether it be positive or negative. In my view this premise is not valid. We can, and must, use every tool at our disposable, from trained safety professionals and detailed work processes to individual worker accountability and safe work culture, to ensure that all workplaces are safe. So, in a general sense the real challenge is convincing those outside the profession that creating a safe environment, both in the workplace or everywhere for that matter, takes hard work and dedication.
What skills are important for success in the OHS field?
Just as a safe workplace does not happen by accident, individuals who are truly successful in the field do not just appear. It takes a combination of formal academic training, applied knowledge, and on the job experience to achieve true success.
What tips do you have for new grads or those in entry level OHS positions who want to move up the ladder?
Never stop learning and striving to improve. Continuous improvement of knowledge and skills enables individuals to not only achieve excellence in what they are currently doing, it also prepares them to move forward in their career.
The OHS field has been evolving. What changes excite you most?
In Canada, as a general principle a safe and healthy environment is considered a fundamental human right. The challenge is how to ensure that this is actually the case. The initiatives mapped out in the BCRSP strategic plan all contribute to meeting this challenge and it is exciting to be a part of making the plan become a reality.
What's the future of the OHS profession?
Hopefully, OHS will finally achieve the recognition that it deserves and individuals who have chosen to make OHS their career will be recognized appropriately as well. This means that with appropriate training, experience, and certification OHS professionals will be recognized in the same manner as other "professional" groups such as doctors, lawyers, engineers etc.
What do you do when you are not working? 
As noted earlier, I am semi-retired so it is hard for me to make that distinction. I do not view what I do as work, my OHS activity is part of my day to day life.