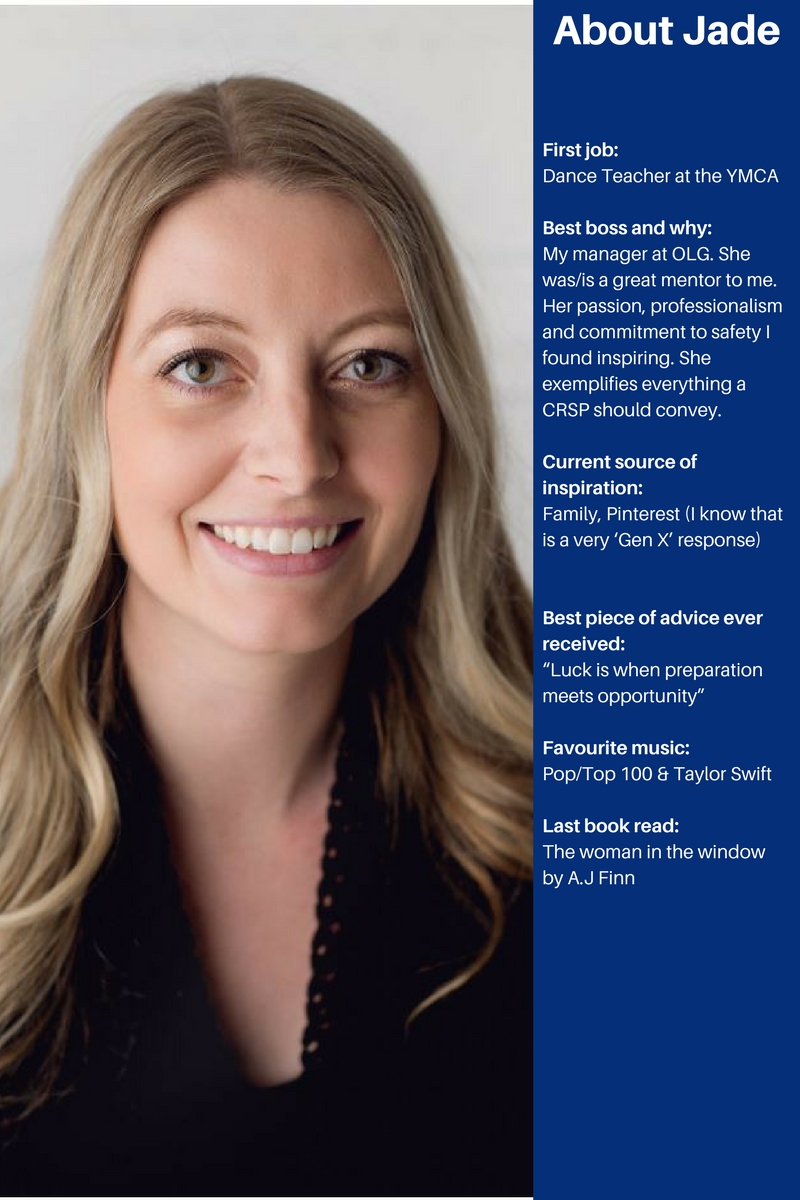 When did you decide you wanted a career in occupational health and safety?
During my last year of university, I took a course on Health and Safety in the Workplace and it sparked an interest for me. I did some research and discovered it could be a viable career option and there was a post grad program I could take with a co-op. My co-op experience made me excited about the field, and I haven't looked back since!
What was your first occupational health and safety position?
My first OHS position (not including my co-op) was with Ontario Lottery and Gaming (OLG) as a Regional Health & Safety Advisor.
Tell us about your current job. What are your main areas of responsibility?
Currently, I work for Suncor Energy's St.Clair Ethanol Plant as the site Industrial Hygiene and Safety Advisor. Main areas of responsibility include developing, implementing and auditing IH&S programs and standards for the site, work with our site trainer and develop training content, participate in local safety associations, coordinate & execute IH sampling, help resolve IH&S issues, and communicate relevant changes.
What do you love about your job?
I love that every day is a little different, and that there are new and unique situations I get to be involved and challenged in.
What are the challenges you experience in your job?
Safety culture! No matter where I have worked, and whether there has been a strong active culture, or weak and disengaged, safety culture is tricky. If the culture is good, you don't want to rock the boat, but you still have to continue engagement to keep it going. If the culture is poor the one positive is you probably can't make it much worse; however getting to a place where workers are engaged can be a very tedious and discouraging process at times.
What skills are important for success in the OHS field?
From my experiences, I think it's important to be able to view safety from a variety of lenses (employer, contractor, employee etc.), and get a sense of how your role within OHS can impact each of them in different ways. Every company views OHS slightly different, so you have to adapt.
What tips do you have for new grads or those in entry level OHS positions who want to move up the ladder?
If you don't know the answer- it is ok! Take every experience as a new learning opportunity and do some research to help familiarize yourself with the different aspects of safety before running it past a co-worker or manager. I found this approach helped me understand the regulatory aspect of OHS very well as I was able to understand the difference between legislation, standards, and guidelines (i.e. ANSI, CSA, OHS Act, etc.), as well as how to source out information on my own.
Another tip would be to try to attend professional development opportunities if you can. Not only does it help keep you up to speed with changes, the networking aspect is great. I have always found people to be very friendly and open to exchange information and experiences, especially when I was new to OHS. It is always helpful to have contacts in the safety world that you can bounce ideas off of.
The OHS field has been evolving. What changes excite you most?
OHS has grown so much in many different ways, but the technology advancements and how things are becoming smaller, lighter weight, user friendly etc. is so interesting and extremely exciting. Being able to offer workers a lighter, smaller personal fall device, or provide them with a personal rating/fit factor for their ear plugs are great examples of how technology has come so far, and truly has the end user in mind.
What's the future of the OHS profession?
OHS will hopefully continue to grow in a proactive direction. Companies hopefully will continue to understand the value OHS provides and more and more employers will strive for a zero injury goal.
From an employee perspective, I hope that more workers feel empowered and engaged in safety at their place of work. I find there can be a lack of awareness amongst workers in regards to their responsibilities and the IRS System. At the end of the day, everyone owns safety, and it's important to keep communicating this.
What do you do when you are not working? 
When I am not working, I am spending time with my family (husband, daughter & 2 dogs). I love to cook, go to my family cottage, hang out at the beach (in the summer), and volunteer on safety committees.