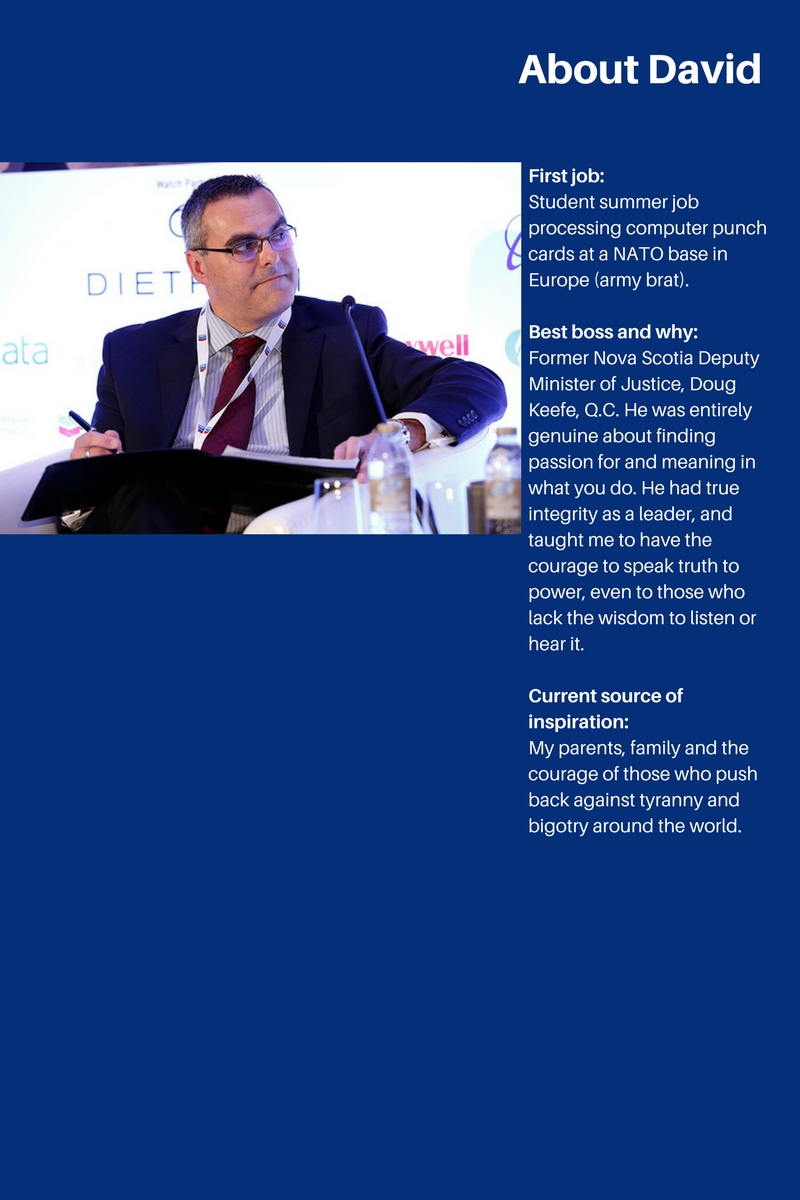 When did you decide you wanted a career in occupational health and safety?
I started out in roles related to quality management, process improvement and compliance. I then experienced the enormous impact the safety field has on people, organizations and entire communities after volunteering in the aftermath of the tragic 1998 SwissAir 111 crash off the coast of Nova Scotia. From that point on, I became increasingly interested in safety.
What was your first occupational health and safety position?
I first had safety in my portfolio as a manager of Maintenance Quality in the late 90's. However, OHS became a much larger component of my role, when I was a Vice President Safety Quality & Environment in aviation.
Tell us about your current job. What are your main areas of responsibility?
As Regional Director Occupational Health and Safety for the Nova Scotia Department of Labour and Advanced Education, I have the unique opportunity to serve my community from a regulatory perspective. I oversee compliance and enforcement resources for one of five regions in the province, in my case the core Halifax-Dartmouth area. Our services range from education and promotion of safety and compliance, to inspection and verification that workplaces comply with the OHS Act, to enforcement of requirements when required. Much of our energy these days is spent working with employers and employees to help them achieve compliance and to strengthen their internal responsibility system.
What do you love about your job?
Any career that offers a professional the opportunity to improve the lives of people is a satisfying one. I know that my efforts and that of the exceptional staff I am privileged to work with makes a very direct impact of individuals, families, communities and the success of employers. How much better does it get than getting up in the morning knowing you help make that kind of difference?
What are the challenges you experience in your job?
The diversity of employers we engage with is enormous! Everything from two-man operations to major industrial players. While the fundamentals of OHS may be the same, our approach to such a range of stakeholders varies a great deal.
What skills are important for success in the OHS field?
While there are obvious technical topics and skills, in my experience OHS is primarily about people, culture and process. Developing the ability to communicate effectively with a wide range of stakeholders and knowing how to assess organizational processes and cultural dynamics is fundamental to improving safety outcomes. These skills are certainly not "soft", they take mentoring, experience and appropriate training.
What tips do you have for new grads or those in entry level OHS positions who want to move up the ladder?
I would manage expectations to avoid becoming frustrated. Don't burst out of academia expecting that (a) safety processes and theories can be neatly applied the way you learned them, nor (b) that everyone will willingly buy-in to what you consider to be an improvement. Real organizations and workplaces are messy. There are an infinite variety of workplace scenarios, and what works for one may not for the next. Be flexible and work with those doing the job to understand what makes sense from a process and a culture perspective. Also, don't assume that because you understand why certain processes will improve health and safety that it is necessarily self-evident to everyone else. For many people, they need to understand why something is a benefit in very real, practical terms. Buy-in is a form of trust and motivation, and you don't get that by quoting from your OHS texts.
The OHS field has been evolving. What changes excite you most?
Increasing focus on holistic OHS systems, such as the Internal Responsibility System (IRS) or Safety Management Systems (SMS) is very promising. You cannot "prescribe" safety through safe work procedures and technical standards alone. We can get enormous mileage out of improving how organizations proactively identify and mitigate hazards, communicate about safety and generally weave occupational health and safety into business practices across the board.
What's the future of the OHS profession?
I honestly think it is related to the previous question. More emphasis on promotion of holistic systems like IRS, and using a sophisticated understanding of human behaviour and organizational culture to impact positive change. Several hyper-safe industries like aviation have only been able to break through glass ceilings in safety progress by moving in this direction.
What do you do when you are not working? 
In addition to spending time with my wife and daughter, I train in and do a bit of teaching in Shotokan karate, ride my motorcycle when the season and weather permits, and enjoy the outdoors and travel. I also volunteer on a national board of directors and I love learning, so am often pursuing new knowledge.