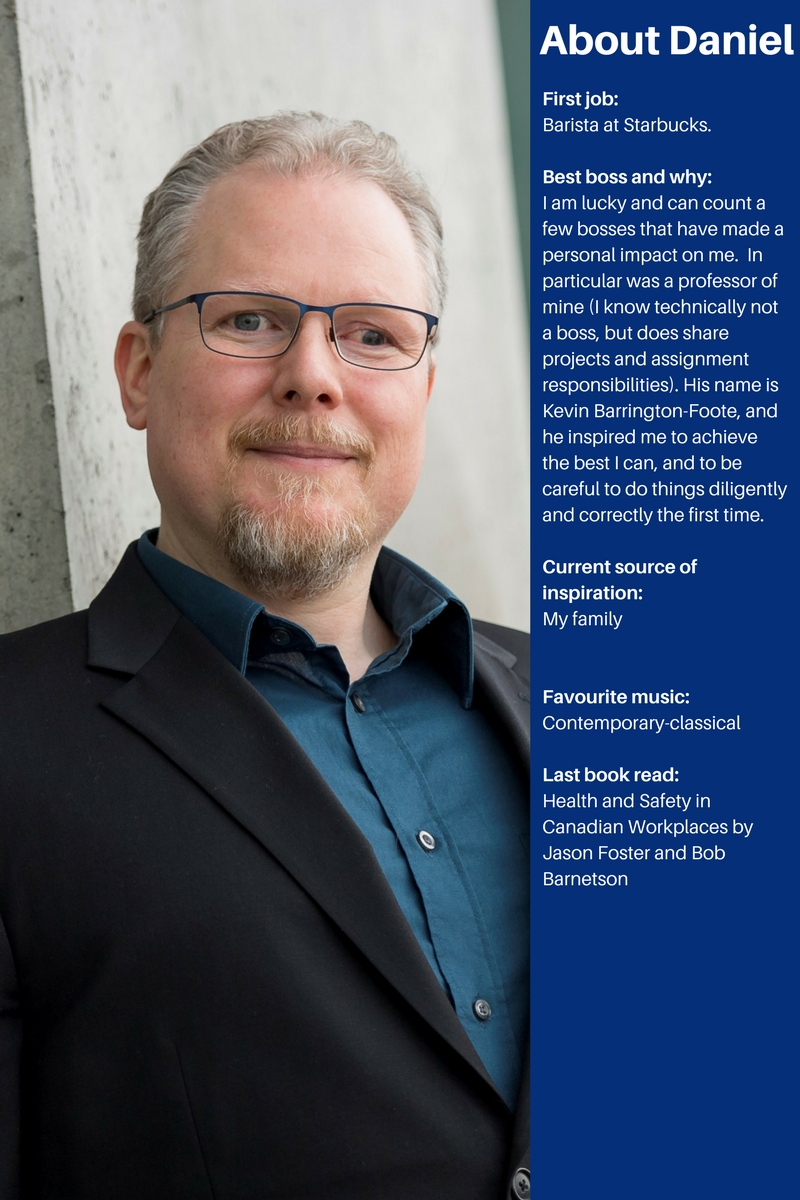 When did you decide you wanted a career in occupational health and safety?
The years that followed my workplace injury and recovery, I would often find myself advocating for workplace safety, being involved in joint committees for example. About five years ago, I had one manager in particular, Jane Talbot, who saw my potential and advocated for a new position be created for me to be able to focus on OHS for the organization. I found my calling, and decided to pursue further education in OHS; My career rocketed from that point forward.
What was your first occupational health and safety position?
My first full-time position was Training and Safety Coordinator at the BC SPCA.
Tell us about your current job. What are your main areas of responsibility?
I am a Safety Advisor for the Manufacturing Safety Alliance of British Columbia. I provide support, training, and regulatory advice to manufacturing companies in an effort to improve safety for the manufacturing industry.
What do you love about your job?
I get to work with employers from a variety of manufacturing subsectors from the food industry to aerospace. Everyday I make a difference with the companies I work with improving their safety programs and culture.
What are the challenges you experience in your job?
Every employer is unique and, therefore, requires specialized solutions. The onus is on me to be up-to-date on OHS regulations and trends as the industry evolves.
What skills are important for success in the OHS field?
Analytical and people skills. Whether you are a consultant or an OHS employee, your clients are everyone you interact within the organization. To succeed, the OHS professional must have excellent listening and negotiating skills.
What tips do you have for new grads or those in entry level OHS positions who want to move up the ladder?
Being the safety professional in an organization can be lonely. We are often the sole OHS practitioner in an organization and this can mean we are often caught between the demands of management and workers. My advice is for you to seek other OHS professionals, join networks, and your colleagues will understand what you are going through and can be an excellent resource to help problem-solve and generate ideas and strategies on how to break through barriers.
The OHS field has been evolving. What changes excite you most?
I am excited to see that the OHS professional is moving from being the OHS enforcer to being the OHS leader. More emphasis is being placed on the OHS professional to be a team leader, and to motivate cultural change through positive reinforcement and collaboration with inter-departmental stakeholders.
What's the future of the OHS profession?
Where a certificate, or years of experience would have been enough to secure employment in the OHS field, employers and recruiters are more commonly looking for OHS post-secondary education and OHS certification such as the CRSP.
What do you do when you are not working? 
I perform and compose music.