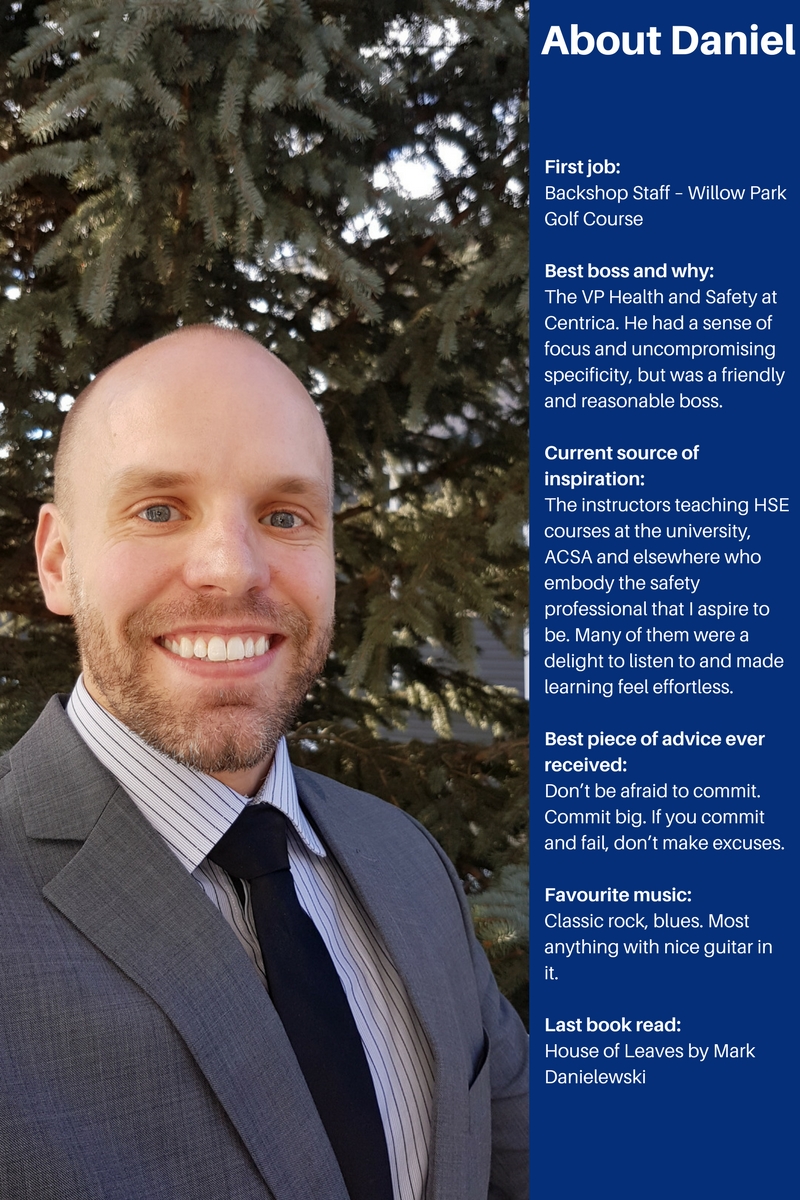 When did you decide you wanted a career in occupational health and safety?
I worked at Centrica Energy Canada along with a great group of individuals in the safety, environment and regulatory group. I was inspired by the focus and dedication with which they viewed their responsibilities. It rubbed off on me.
I have worked in a number of positions, departments and industries over the years and the atmosphere of personal responsibility and motivation in the safety niche stood out for me. With that in mind, I set out to continue my education and training in pursuit of a career in occupational health and safety.
What was your first occupational health and safety position?
I had two separate jobs that included health and safety elements before it became a focus for me. I seemed to occasionally absorb these "hot potato" tasks that nobody wanted to be stuck with, but were nonetheless necessary for a business. Maintaining registry systems like ISNetworld was one – if you knew how to do it, congratulations, it's now your job.
My first taste of health and safety was when I was working as an IT Coordinator at an engineering company. We needed a safety manual created, and this was delegated to me because my hours were not billed out to clients.
My first job that was fully focused on safety was with Centrica (then Direct Energy Upstream). I worked as a Health and Safety Technician within a group of about six in the office and numerous in the field. My experience in this role inspired me to go on with safety as a career.
Even though you are currently not working, how do you think attaining your CRSP certification will assist you in looking for a new career?
On the superficial level, the designation itself has value. CRSP is recognized across Canada and across industries as representing a standard of knowledge, experience and specialization. Modern job seeking methods have a way of partitioning the seeker from the employers with resume parsing software, HR departments and application forms which often poorly represent qualifications. Having the CRSP is, in a way, a shortcut to showcasing a certain level of expertise; a valuable asset in a fiercely competitive job market.
Why did you pursue your CRSP certification?
The more important reason that I sought certification (as well as further training) is that I believe that safety is a role that should be done by a knowledgeable, competent professional. In striving to land opportunities in the field, I want to be as well-versed as I can be in every aspect of the discipline. I believe that the person in charge of safety for an organization (as I hope to be) has a responsibility to the people working around them. The consequences of complacency can be extreme, and the stakes are large! Going forward, I believe the learning and growth opportunities from CRSP peers as well as association with the Board represent my best opportunity to develop into a leader in safety going forward.
What skills are important for success in the OHS field?
There are a number of skills that are needed to be successful as an OHS professional. Hazard assessment, interviewing, documentation, emergency planning, for example. Those standard categories taught in any education and training program. While each of those facets are part of a necessary collection of skills, maybe more important to success as a professional is the ability to own safety yourself.
We often talk about safety being everyone's responsibility, and a key to achieving that as a culture is having individuals "own it" in their own work practices. In order to encourage that, the safety advocate must also own it, and not concede that PPE is a nuisance, training is onerous and guarding on machinery is in the way. Those individuals that I have worked with, who inspired me, very much embodied this mentality.
What tips do you have for new grads or those in entry level OHS positions who want to move up the ladder?
Practically every employer wants you to have field experience relevant to industry in which you're working. This seems simple and obvious, but it has been a limiting factor for me, and something I am trying to build up now (in effect, I've done everything backwards). Even in an existing role, lack of hands-on experience may limit upward trajectory. Take advantage of time in the field if your role is based in an office, it lends much to your credibility.
The OHS field has been evolving. What changes excite you most?
I have some interest in developers who are producing much better enterprise software solutions for safety tracking. Those of us in the safety profession understand the value of tracking everything (kilometers driven, near misses, hours, incidents, etc.), but doing so poses a problem in many businesses with limited administrative resources. I think the streamlining of this process will allow companies to keep accurate records easily and at relatively little expense. Potentially, this can help smaller businesses and industries outside of the present safety-conscious ones improve the safety of their organizations. For the companies already doing this tracking, record keeping can be made much easier and of a higher standard of quality.
What's the future of the OHS profession?
There is still much room for growth in health and safety. Going away are the days of safety being a responsibility someone in the company gets saddled with. By contrast, safety personnel in organizations today are educated, focused, specialized individuals for whom safety is a passion. As time goes on I think this will be more and more evident. This shift, I feel, will not only lead to better overall safety performance in evolving industries, but a cultural change that we have already seen evidence of.
The future will need educated and proactive approaches to manage risk as the rate of change grows ever faster. I've taken part in interesting health and safety focused conferences and seminars about coming changes and what they imply. It is always inspiring to hear industry leaders discuss hazards and risks we are yet to face, but will.
What do you do when you are not working? 
I enjoy fitness, particularly weightlifting, but also running, swimming and cycling. I play guitar, piano, drums and I sing – I have played with several bands though nothing at present. Guitar is the only instrument I am an expert at. I consider myself a lifelong learner, so I recreationally take courses to learn skills like AutoCAD and CNC operation out of my own interest. Other than those, just your typical pastimes: reading, movies, music and spending time with my lovely wife and dog.