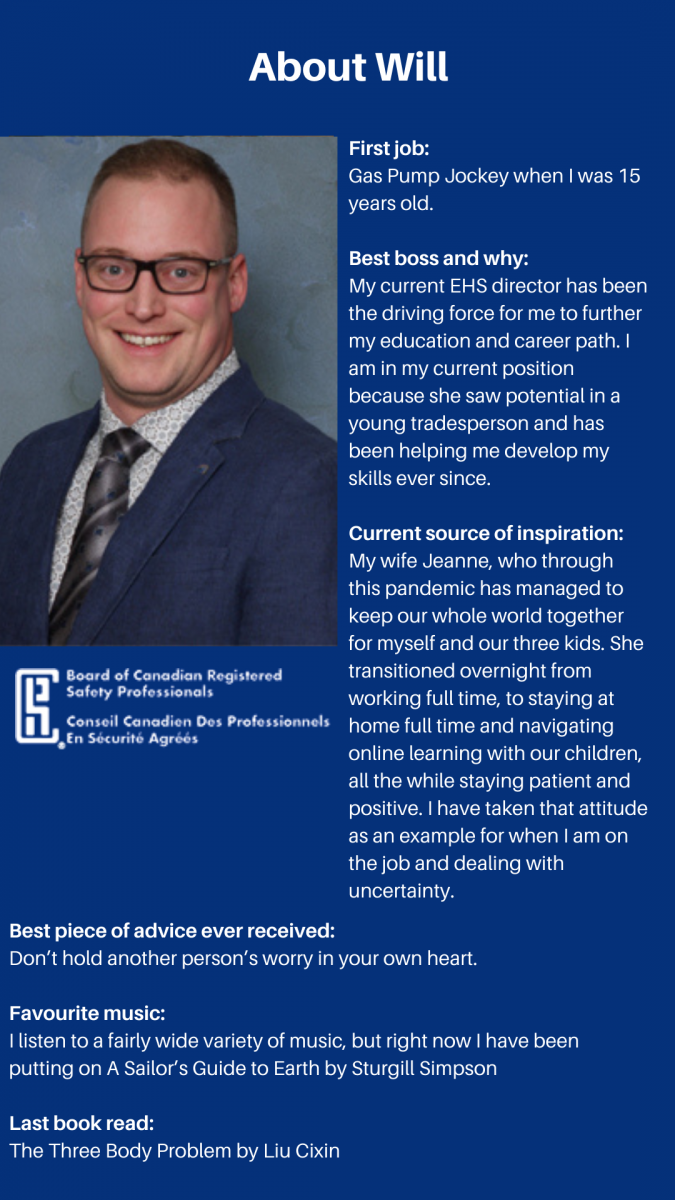 When did you decide you wanted a career in occupational health and safety?
Because I came into OHS as a skilled tradesman, I was not sure in my first few years of safety if this was going to be my long-term career. Probably the deciding factor for me was when I started getting involved in some of the higher end strategic planning in my organization, and I could see the impact this kind of planning has on the front-line work.
What was your first occupational health and safety position?
I was initially hired into a half-time safety, half-time project coordinator position. This was probably the worst thing I could have signed up for, as the job actually required a full time worker in both those roles, and it was a struggle for me to keep up with the work load of what in essence was two full time jobs. I did learn a lot about time management though, so there were some benefits.
Tell us about your current job. What are your main areas of responsibility?
I am currently working as a field EHS advisor responsible for two projects in southern Alberta. The work is varied, as one job is supporting an industrial construction effort, and the other is for a utility pipeline installation. I am also supporting our corporate division revamping some areas in our EHS Management System and providing feedback to corporate from a field perspective.
What do you love about your job?
From the get-go, I have always loved the amount of interaction I have with all the varied work scopes. I started in the trades as a plumber, then a class A gasfitter, and finally a steamfitter. As a field safety advisor, I get to learn about all the different construction trades and have seen some incredibly impressive jobs carried out. Most of the experience I have gained is from listening to the operations teams – these folks are the experts in their fields and have a lot to offer to the safety department for developing real, effective procedures that will keep workers safe.
What are the challenges you experience in your job?
I believe that my role as a field advisor has me wearing a lot of different hats. I am often finding myself as an intermediary between corporate management and field operations, helping both parties understand where each other is coming from. I always need to keep safe work practices and procedures top of mind, but I also need to have an intimate knowledge of how a construction project is successfully executed from contract procurement to mobilization, from construction to commissioning and turnover. Building relationships and common purpose with a variety of stakeholders (project operations, clients, subcontractors, members of the public) is both the most rewarding and challenging part of my job.
What skills are important for success in the OHS field?
I think the single most important skill that I have as a field advisor is the ability to actively listen. There is a wealth of knowledge and experience amongst the whole project team, and I will never be a subject matter expert in every trade discipline. Really listening to my team members, and then providing feedback and follow up questions that show them that I am putting all my focus in what they are telling me, is probably the most effective tool I have for building those relationships. When your team members know that you value and care about what they have to say, they are also much more responsive when you are introducing a new safe work procedure or administrative control.
Why did you decide to pursue your CRST?
When the designation was first advertised, and there was a pathway for skilled tradespeople such as myself to write the exam, I immediately felt like the BCRSP was making space for safety practitioners such as myself who were coming up from the tools and had a passion for improving workplace safety. I think there is a large group of tradespeople in Canada such as myself that are transitioning into OHS roles in their organizations, and this designation helps recognize the great work they are doing.
You are the first CRST to be on the Governing Board. Why did you decide to apply to be part of the board?
I was so happy to obtain my Technician designation. I am a firm believer that effective safety in the field is an essential element in an OHS Management System. Field Technicians need a voice in our organization, and I felt strongly that I could provide an honest, balanced representation to the Board.
The OHS field has been evolving. What changes excite you most?
We are at a point where industry and government stakeholders are really recognizing the value of OHS professionals, especially during a crisis like managing COVID-19. For many business and organizations, this was the first time they needed to take a close look at emergency response planning, PPE effectiveness, and safety risk management. These are areas where OHS professionals excel, and I am hoping one of the outcomes of working through this pandemic is that we can push for further recognition and legitimization of the OHS profession.
What do you do when you are not working?
Spending time with my family. We often go camping and take road trips in the summer (most recently we took a trip to Northern BC for an extended camping trip). Otherwise, I love playing board games, and am an avid reader.