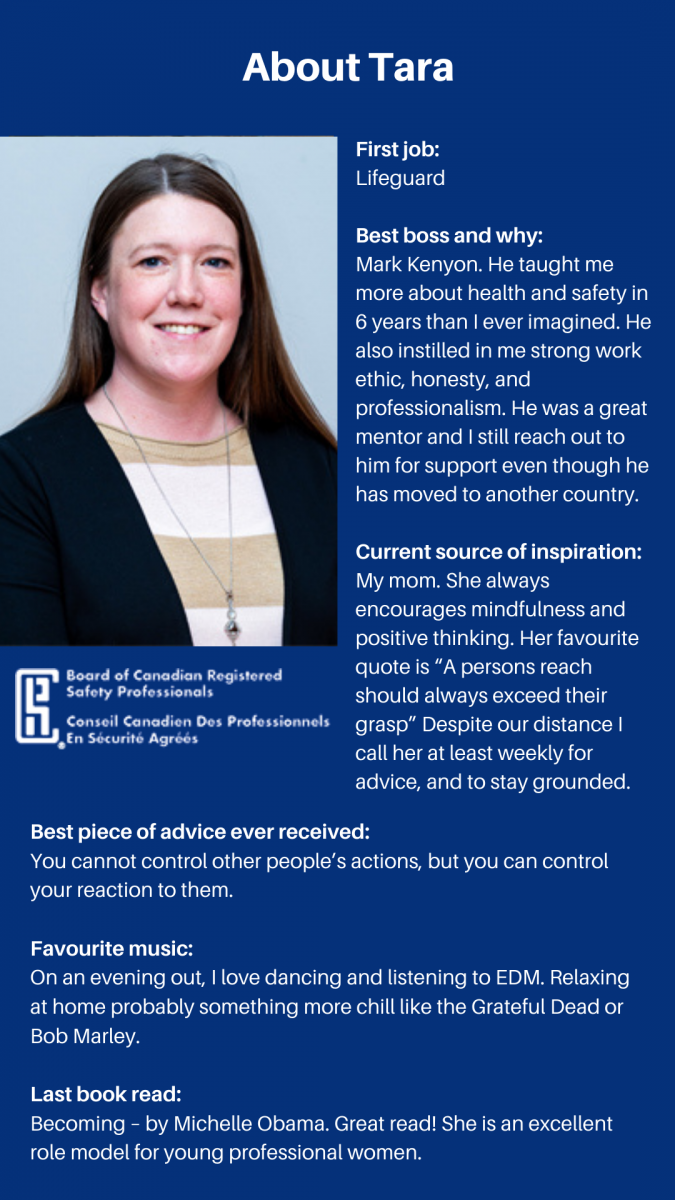 When did you decide you wanted a career in occupational health and safety?
My first job was lifeguarding at my local pool and lake. Aquatic and boating safety, first aid, and pool chemistry were integral parts of the job and I enjoyed having a role to play in keeping community members safe. In addition, growing up in Labrador my Dad was an avid outdoorsman. This exposed me to outdoor survival safety, firearms safety, and recreational vehicle safety, such as snowmobiling. It is fun to recall those freezing winters of -50 celcius where hypothermia is a real concern; not that it stopped us from going outside! I have been living in Qatar for the past 9 years, and the environmental conditions here are quite different. During summer, temperatures can soar up to +50 celcius which creates an entirely different set of risks. But yeah, I believe it was a natural progression for me to choose Health and Safety as a career. Although I did pursue a different education path prior to OHS, it wasn't the right fit for me. When I enrolled in an OHS diploma program in 2009, I knew it was where I belonged. It was unquestionably the right choice and I love working in this field.
What was your first occupational health and safety position?
After graduating from Academy Canada, I did an internship with an HSE training and consultancy company called Rogers Enterprises Limited (REL) in St. Johns, Newfoundland. It was a very enriching experience that exposed me to consultancy services in occupational hygiene, construction safety, health care facilities, and the delivery of high quality HSE training. The training practical area was top notch and trainees could experience working at height and entering a confined space in a realistic scenario but in a safe and controlled environment.
This experience set me on the path to becoming an HSE consultant when I moved to Qatar in 2011 where I started my overseas career as junior HSE consultant and trainer at Applus+ Velosi. I advanced quickly and was promoted to the role of consultant and the internal HSE specialist for the Qatar Branch. I worked on major projects with a team of 13 consultants from across the globe and I also managed the Integrated Management System for Applus which included monitoring and reporting on the HSE performance of over 400 employees.
Qatar has truly been an amazing place to progress my career. The entire country is under construction in preparation for hosting the FIFA world cup in 2022 and the city is developing in incredible ways right before our eyes. Not to mention the exposure I've had to the oil and gas industry, which is the backbone of Qatar's economy. It is a very exciting place to be!
Why did you pursue your BCRSP certification?
I always had my eye on becoming a CRSP from the get-go. When I was considering where I would pursue my education, I wanted to ensure that the program I chose would meet the eligibility requirements for the CRSP certification once I had enough experience to apply. Having this professional designation confirms that I have the knowledge, skills, and experience necessary to perform as an HSE practitioner. It also confirms that I work in accordance with a professional code of ethics that provides a level trust and assurance between me and my colleagues and clients.
In Qatar, UK based qualifications, including the IOSH membership, are widely recognised. However, I was happy to learn that most companies also recognise the CRSP certification as a global standard for HSE professionals. Since the BCRSP now has MOUs between IOSH and BCSP, there is a clear path for us Canadians to achieve other professional designations. I am currently working on a plan to become a member of IOSH and to add the CMIOSH designation to my portfolio.
The CRSP certification has also connected me with like-minded individuals and I love being part of a larger network of safety professionals. I know that once it is time for our family to move home that having this certification will open more opportunities for employment in Canada.
Tell me about your current job. What are your main areas of responsibility?
I'm now the HSE Operations Manager for an HSE training and consultancy firm called Doha Industrial Safety Services (DISS). DISS is a leading local company with a great reputation for high quality HSE services. I oversee the training department focusing on expanding our network of international accreditations and partnerships, ensuring we have experienced trainers, and that we continue to meet high standards of training quality. I am also responsible for the consultancy division which supports our clients in recognising and controlling risks within their operations. We specialise in development and implementation of management systems for ISO 45001, 9001 and 14001, third party accident investigations, risk assessments, hygiene services, campaigns, auditing, and environmental services. We really are a one stop shop for HSE services.
What do you love about your job?
My job is very challenging, and I enjoy learning new concepts and ways of working. This is my first management position, so I am striving to carve out my own management style that will motivate and inspire the people I work with.
I also love that DISS has a strong vision for the future. Our GM is a natural innovator and leader and I am learning a lot from him. During the recent (and ongoing) crisis because of COVID-19, training companies really struggled, and many businesses closed permanently. We were quick to act and transitioned to online learning via live webinar delivery and invested into a learning management system to deliver e-learning to our clients. Our motto during this global pandemic is that learning never stops. I feel proud to work for a company that adapts and perseveres in the face of adversity.
I also love the international experience I am gaining. My job has exposed me to people from all over the world. This has been the most enriching part of working overseas. It also has its challenges because we all come from different cultures, speak different languages, and have different preconceived notions about safety as a product of our environment. The rewarding part is that through training and collaboration we learn from each other, improve attitudes, and influence behaviours which as a result enhances the overall standard of health and safety and avoids workplace accidents.
Another great aspect of my work is that I am not at my desk all day. From day to day, you can find me at DISS training academy, our corporate office, on project sites, attending meetings on the 40th floor of a tower in the business district, in a newly constructed world cup football stadium, refineries, power stations, and more!
Finally, I love being a professional woman in this field and know I have a lot to bring to the table. You do not encounter many women practising HSE in Qatar, yet. This is changing under the current leadership of the country who embrace education and are investing heavily in programs to support women in industry.
What skills are important for success in the OHS field?
I would say that strong communication skills are a key to success. You must be able to communicate your message to others effectively if they are to buy into the importance of HSE.
Also, a firm commitment and belief in the importance of health and safety. You must lead by example or you risk having your authenticity questioned, and rightly so. Imagine promoting safety all day at work, only for your employees to see you speeding out of the parking lot without your seatbelt and using your phone! Its vital to practice what you preach and adopt a healthy and safe lifestyle.
Attention to detail is also very important. In this field you cannot escape tasks such as preparing reports, crunching numbers for trend analysis, writing procedures, and reviewing contracts. You must have a keen eye for detail to ensure information is accurate.
What tips do you have for new grads or those in entry level OHS positions who want to move up the ladder?
This is a great question…I have several that I am happy to share.
Make safety everyone's priority - By involving people, they will take ownership. Just because your title may say HSE Manager does not mean you alone should manage HSE. Advise, support, guide, and monitor but continue to hold others accountable for safety performance and always engage with all levels of the organisation.
Keep an open mind - Throughout your career you will work with organisations that have differing management styles and cultures. Embrace this diversity. You will learn that there is no cookie cutter solution to managing HSE. Keep an open mind and use the best of all the methods you encounter. Avoid dictating and ensure to promote active participation and consultation in the development and implementation of HSE systems.
Do not over complicate HSE systems - Ensure systems are relevant to your organisation. HSE programs should be clear, concise, applicable to processes, and clearly understood by staff. Other wise they are ineffective.
Invest in yourself - Register for that training, attend that seminar, dedicate "me time" for reading the latest magazines and articles. Continue to learn and stay abreast of the latest standards, trends, and best practices.
Ask questions - Never be afraid to ask a question…but do your research so its an educated question. Never pretend you understood a process or condition surrounding safety, if you do not, just to save face. This will slow your progression drastically. Keep asking questions until it becomes clear to you.
Get as much exposure as possible - Try to find a starting job that will expose you to industrial settings. Its difficult to understand core HSE concepts without being able to put the knowledge into practice. Capitalize on any opportunity to talk to the workers. Ask them questions about their job, including the steps, hazards, risks, and controls. Discuss their concerns and suggestions. These conversations will accelerate your understanding and growth.
The OHS field has been evolving. What changes excite you most?
Lately the pandemic has made me excited to see how the future will look for the safety and well being of remote workers. Will workplaces continue to offer flexible working solutions? How will companies manage the Health and Safety of workers who work from home?
I also get excited about studying incidents and how the lessons learned shape future HSE standards. Obviously, we never wish for major catastrophes, global pandemics, or environmental disasters to occur. But these events provide a growth opportunity for the field of knowledge that exists. Discovering what went wrong, how it could have been avoided, and how we can apply these lessons to prevent reoccurrence is fascinating. Take the recent port explosion in Beirut, Lebanon for example. This may become a textbook case and future HSE students could study this event just as we did with Chernobyl, Piper Alpha, and Deepwater Horizon. Its vital that that we share these lessons learned, evolve with the knowledge we gain, and never forget the impact these events had.
What do you do when you are not working?
I enjoy relaxing on the weekends with my husband, Greg, and our two kids, Ben (4) and Lina (2). Qatar is very family oriented and a safe place to live with generally great weather and lots to do. Prior to the pandemic, we were travelling frequently. We have visited Russia, Japan, India, Africa, Thailand, Philippines, Maldives, Jordan, Cyprus, Lebanon, Turkey, and many more amazing places.
The pandemic has slowed us down some, but we have been enjoying time at home by baking, doing puzzles, reading, and playing Nintendo switch. More recently as things are opening, we are enjoying getting to the beach, swimming, and taking weekend staycations.