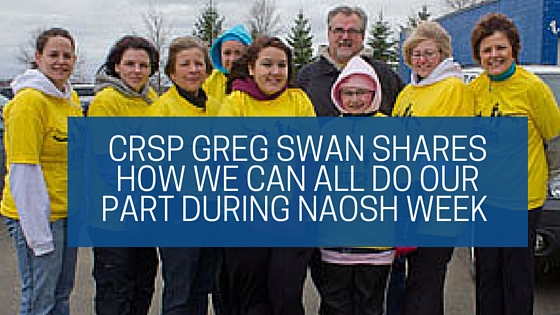 On an average day in Canada three people will lose their lives on the job; that is one of the reasons North American Occupational Safety and Health (NAOSH) Week is so important according to Greg Swan.
Greg Swan, who is a Canadian Registered Safety Professional (CRSP) and member of the Canadian Society of Safety Engineering's (CSSE) Eastern Ontario Chapter, has been involved in NAOSH Week for many years and encourages others to get involved as well.
"With a quick Google search you can get so many ideas of what you can do and how you can get involved," says Greg. "It's simple yet very important."
NAOSH Week Background
NAOSH Week was first launched in June 1997, marked by an agreement between Canada, the United States and Mexico. The Canadian Society of Safety Engineering (CSSE) is the leading organization for NAOSH Week. Together with NAOSH Week partners the Canadian Centre for Occupational Health and Safety (CCOHS), Human Resources and Social Development Canada's (HRSDC) Labour Program, Threads of Life, and the American Society of Safety Engineers (ASSE), the focus is on promoting the goals of NAOSH Week.
This year's NAOSH Week is taking place May 1-7, and Greg is both prepared and excited for yet another year of increased awareness.
"There are so many events taking place across the country that it's easy for companies and communities to get involved," says Greg. "Getting more people involved and creating more awareness, that's the goal."
NAOSH in the Workplace
Greg, who is also the Health and Safety Officer at Ottawa Community Housing, spends time during NAOSH Week focusing on the successes of his team.
"Safety is never one person's effort," says Greg. "That's why during NAOSH Week it's important for me to highlight the hard work of our Joint Health and Safety Committees, because they are the ones who help form the safety culture"
Community Involvement
This year the National Launch Event will take place in Ottawa but apart from that Greg emphasizes that there are numerous Steps For Life walks, barbeques and learning opportunities also taking place in Ottawa for both safety professionals and community members.
Greg and his team will be taking part in the Steps for Life, 5km fundraising walk in Ottawa on May 1st, to help kick off NAOSH Week.
Steps for life raises money for families affected by workplace tragedy, giving them support, resources and services.
"It's often difficult to promote due to the economy," says Greg. "But it's not impossible. There are so many opportunities for people to get involved you just have to be willing to take part and make a difference."
For more information on the events taking place across Canada and to get involved visit: www.naosh.org