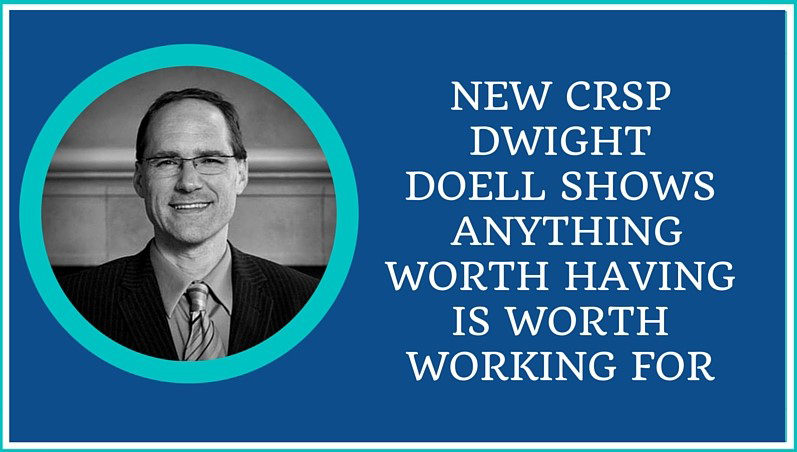 Ever since new CRSP Dwight Doell made the decision to apply for certification the road has been filled with hard work and determination. With his unwavering commitment to safety, Dwight became a CRSP this past December; proving anything worth having is worth working for.
Dwight, who has been working in safety for the past five years, is the Director of Prevention Services at SAFEWORK Manitoba.
His fascination with the designation began years ago while attending a meeting with various safety professionals. During the meeting there was one individual in particular who caught his attention. The individual was knowledgeable, had great ideas and was extremely passionate about safety.
After the meeting, Dwight made it a point to speak to this individual, they had a great conversation and exchanged cards. Dwight glanced at the card and realized he was a CRSP. Having heard about the designation before Dwight was very impressed.
Aha Moment!
In the years that followed, he began noticing a common denominator among all the safety professionals he came in contact with, who truly stood out as exceptional, they were all CRSPs. That's when he realized the CRSP designation was truly a mark of excellence that he wanted to achieve.
"I knew I was a leader and as a leader it was my job to set an example and getting the designation was a part of that," says Dwight.
First Step
Like most applicants Dwight's first step involved a lot of thinking.
 "I went back and forth for a year in my mind debating whether I could really commit to the process then one day I just decided I needed to get the ball rolling," says Dwight.
Although Dwight admits the application process was no simple task, taking him close to a year to get everything ready to submit, he believes that it was well worth it.
"Every part of the process was a learning experience for me," says Dwight. "I learned so much and as a result I hold the designation in a higher regard because of what I had to do and go through to attain it."
The process
"You have to be committed," says Dwight.
Once he submitted his application, he hit the ground running. He began preparing for the examination by enrolling in a two-day prep course. He then bought the recommended books, and went through the study guides provided, committing 120-150 hours to studying.
"Some things were more helpful than others," says Dwight. "For me the guides were the focus of my studies they're thorough and an excellent resource."  
Dwight's advice to applicants preparing for the examination is: "focus on the things you don't know, the things you are familiar with you can go with your gut, but the things you don't know you have to fully grasp them in order to be successful."
CRSP&Proud
His strategy paid off because Dwight passed the CRSPEX on his first attempt this past October.
Other than his commitment to the process Dwight attributes his success to the amazing support he received from his supervisor, Jamie Hall (who is also a CRSP) and surprisingly his two CRSP Regional Screening Centre (RSC) members, who interviewed him.
"I thought the interview was going to be uncomfortable," says Dwight. "But the experience was phenomenal. The interviewers were supportive and reassuring and I left feeling more confident than ever that I'd made the right choice."
Congratulations to Dwight Doell and all the CRSPs who achieved their designation this past December.
For more information on applying for the designation click here or for upcoming dates and deadlines click here.