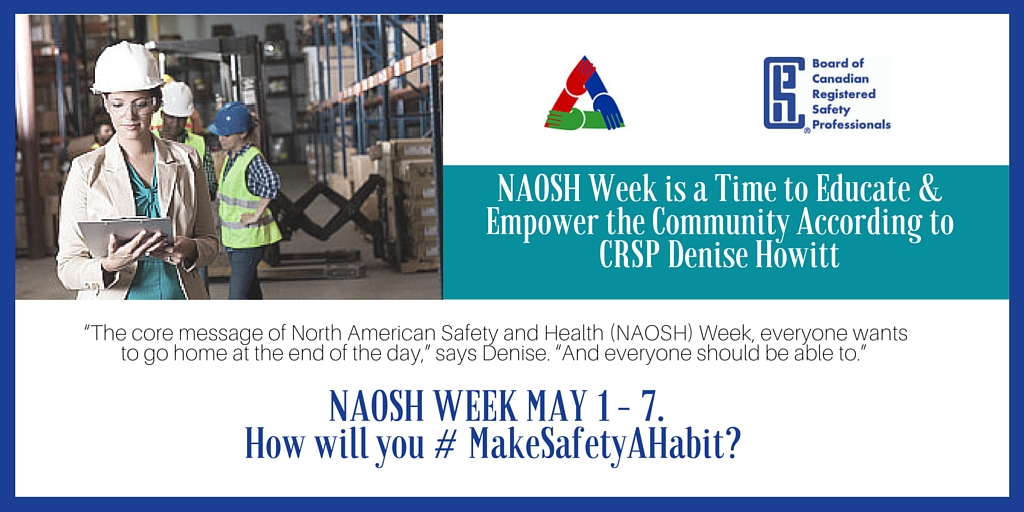 Every day millions of workers across Canada go to work and return home safely to their families. It's part of their routines, most don't even think about it. But it's also a luxury that not every family has. 
Canadian Registered Safety Professional (CRSP) and member of the Canadian Society of Safety Engineering (CSSE) Denise Howitt is one of the many safety professionals who keep dozens of people safe at work on a daily basis. 
"That's the core message of North American Safety and Health (NAOSH) Week, everyone wants to go home at the end of the day," says Denise. "And everyone should be able to." 
NAOSH Week Message 
NAOSH Week was first launched in June 1997, marked by an agreement between Canada, the United States and Mexico. The Canadian Society of Safety Engineering (CSSE) is the leading organization for NAOSH Week. Together with NAOSH Week partners the Canadian Centre for Occupational Health and Safety (CCOHS), Human Resources and Social Development Canada's (HRSDC) Labour Program, Threads of Life, and the American Society of Safety Engineers (ASSE), the focus is on promoting the goals of NAOSH Week.
Denise has been working to promote the message of NAOSH Week for many years, a job she feels is extremely important for the community at large because with education comes a better sense of strength and empowerment.  
"The aim of NAOSH Week is to educate people and let them know that they have rights at work," says Denise. "They shouldn't be afraid to ask questions because it's more dangerous to keep quiet." 
Working with the CSSE's Calgary Chapter, Denise has actively been creating awareness for the past few years she's been involved in many initiatives including: 
A large community gatherings with 400 participants
The Steps for Life walks and fundraisers 
Community proclamation celebrations with local dignitaries such as the police chief, the mayor and fire chief
A local CSSE Calgary Chapter Safety Conference geared towards business owners 
"There are so many great initiatives we do in Calgary, and that also happen across North America," says Denise. "Everyone does their part in hopes that the information will make someone think twice and that's what we want, people to really think before performing a task." 
Young Workers & The Community  
Since young workers are more at risk of getting injured or killed on the job Denise and members of the CSSE visit high schools and teach a workshop about safety at work and within the trades, a program she thinks is very necessary. 
"Many people, especially young people, are not educated on how to work safely," says Denise. "They need to know their rights as workers and have the ability to recognize when a task is not safe." 
Denise is thrilled to be sharing the NAOSH Week message again this year, and hopes that she can continue to reach more people within the community. 
NAOSH Week takes place May 1 to 7. For a list of events taking place in Calgary and across Canada visit: www.naosh.org.