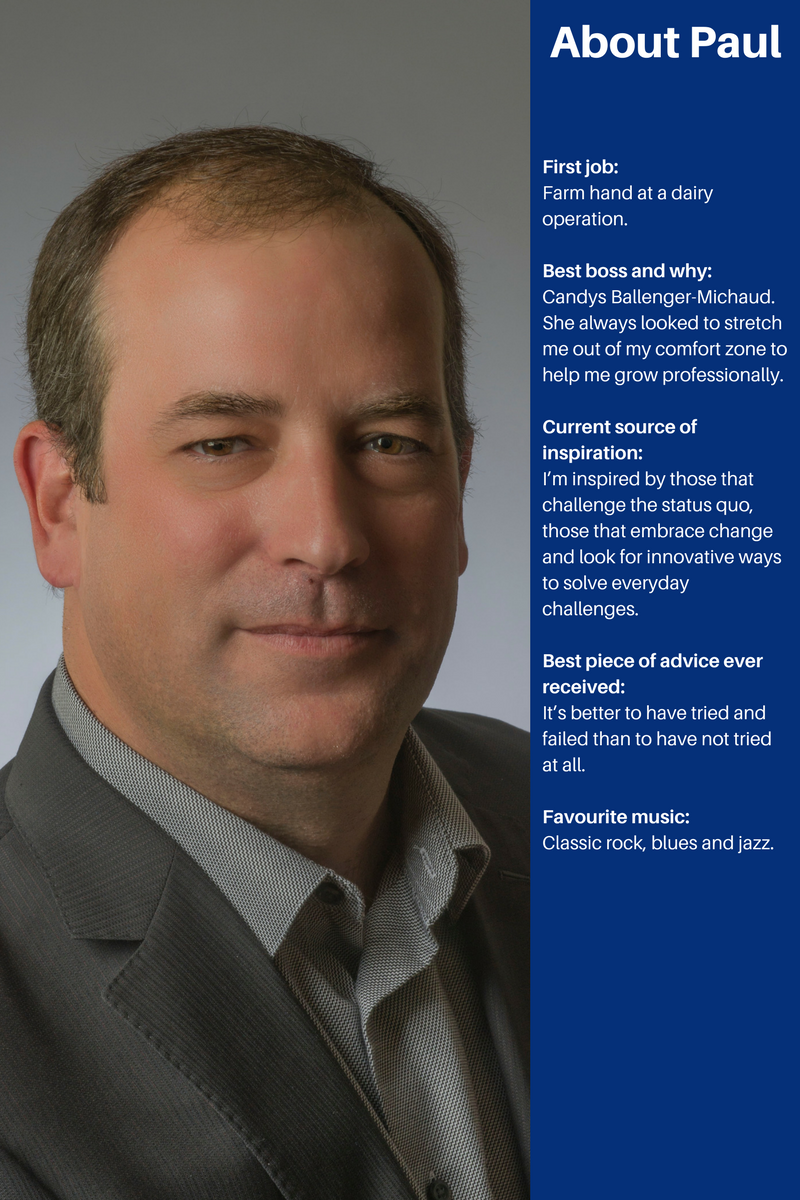 When did you decide you wanted a career in occupational health and safety?
That decision came early, during my first career in the forestry field. Working as a cutter and skidder operator, the hazards are significant, the environment unforgiving and the consequences of incidents can be life altering. I knew early on the importance of having the necessary knowledge and expertise was paramount to my safety and those around me. At that time, the province was just introducing mandatory training for forestry workers and I knew immediately I wanted to be involved in imparting my knowledge and skills to others in the forestry sector.
What was your first occupational health and safety position?
Consultant/Trainer for the Forest Products Accident Prevention Association. 
Tell me about your current job. What are your main areas of responsibility?
I'm currently acting President and CEO for Workplace Safety North (WSN) based out of North Bay, Ontario. WSN is an independent not-for-profit organization and is a leading provider of health and safety services, training, and resources for mining, mine rescue, and forest products sectors, as well as northern Ontario businesses across all sectors. I have the privilege of leading a team of more than 70 professionals to have the greatest positive impact on occupational health and safety across the sectors and communities that we serve. 
What do you love about your job?
Every day offers the prospect to advance our vision to see every worker return home safe and healthy. I have an amazing team that share my passion for improving the lives of working men and women across the province. Working alongside them is simply an honour and a pleasure. 
What are the challenges you experience in your job?
Challenges are simply opportunities that have yet to be realized or acted upon. Any job has its challenges, but when you're surrounded by a team like we have at WSN, nothing is insurmountable and collectively we always figure it out.
What skills are important for success in the OHS field?
The OHS field is evolving quickly and the capabilities of today's OHS Professional must change to adapt to that reality. The OHS Professional must be seen as a trusted advisor, strategist and leader in fully integrating the management of OHS into the organizations they work with. The ability to build relationships across organizations, to exercise leadership skills, to positively influence culture, to use critical thinking skills to address new and emerging challenges are all key to being successful in the OHS field. This list is by no means exhaustive, but organizations are looking for individuals that are not only technical experts but individuals that possess the leadership and communication skills to be partners in organizational success.
What tips do you have for new grads or those in entry level OHS positions who want to move up the ladder?
Continue growing and learning. Learning does not stop once one achieves a diploma or degree, it is indeed continuous. Considering the pace of change in today's world, lifelong learning is more important today than it ever has been and to be relevant and value added new grads need to embrace this concept. Look for a mentor that can help you define what that path looks like given your current strengths and what areas you need to build your capabilities.
The OHS field has been evolving. What changes excite you most?
In the Canadian context, increasing the level of education required of a CRSP and establishing a technician level certification to compliment the professional level are exciting changes that will serve the OHS field well. The International Network of Safety and Health Practitioner Organizations have established a global capability framework for both the OHS professional and the OHS practitioner. BCRSP is mapping our own frameworks to this global framework to ensure Canadian OHS professionals and practitioners are well positioned in the global marketplace. 
What's the future of the OHS profession?
I'd suggest two important elements that will impact the future of the OHS profession. The first is globalization and the need to ensure Canada leads in terms of accrediting the very best in occupational health and safety professionals and practitioners. That will add to the recognition and value the OHS field brings to society. The second is to establish the OH&S as a licensed profession. Currently anyone can practise in the field which in my mind does serve the profession or society well. Having recognized certification frameworks that define what education, knowledge, skills and capabilities and having those frameworks as licenced professions will support better outcomes for workers, employers and society as a whole.
What do you do when you are not working? 
Living in northern Ontario allows me to take advantage of everything the north has to offer. That includes spending time boating, kayaking and fishing on Trout Lake in the summer. A short drive to Mattawa in the winter is Mount Antoine which allows for great downhill skiing and spectacular views of the surrounding area. Northern Ontario has some of the country's best outdoor experiences right at our doorstep and I look to take advantage of as many of them as possible.