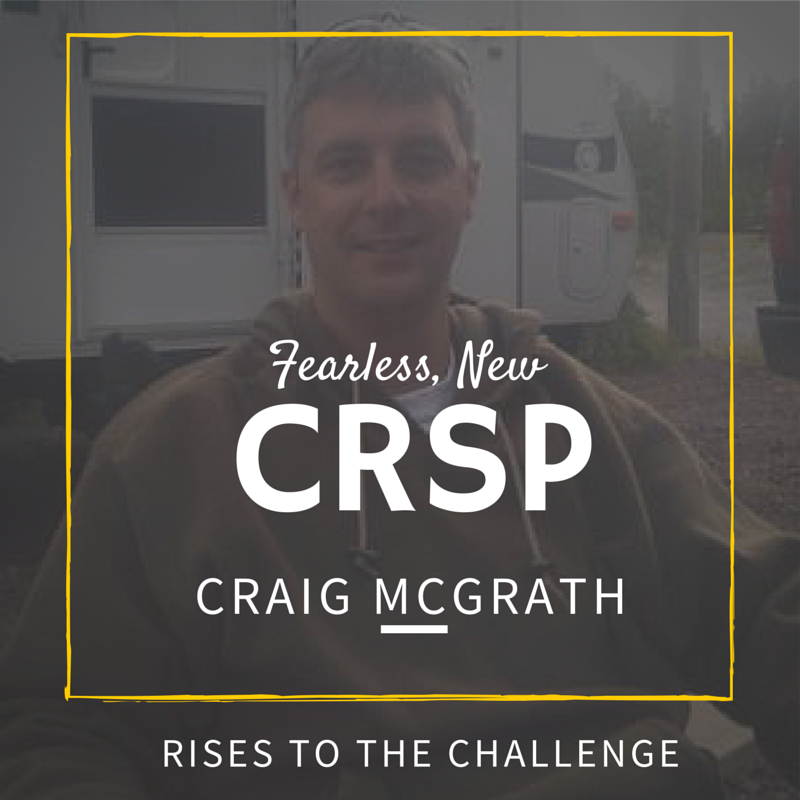 Fear has two meanings: Forget Everything and Run or Face Everything and Rise.
For years new CRSP Craig McGrath, ran from pursuing the designation because his fear got in the way. When two of his colleagues decided they were going to do it, that pushed Craig into high gear and he made the choice to face his fear. As a result, Craig became a CRSP this past February. 
"The fear of the application, the exam and everything surrounding getting the designation held me back for years," says Craig. "But when I finally faced my fear it wasn't as bad as I'd made it out to be in my mind and I felt silly for not doing it sooner."
You Live and Learn
Now Coordinator of Occupational Health and Safety at the Canadian Blood Services, Craig's career began as a Group Home Counsellor where was involved in the Health and Safety Committee, his passion for safety grew; so much, that he went back to school to study Occupational Health and Safety, graduated and jumped into the field.
Now 15 years later Craig's career continues to grow. For him no day is a typical one; from incident reporting and investigation, workers compensation reports and question after question from those in the field; Craig's days are spent advising, analyzing and putting out sparks before they become fires. Now a CRSP he works with more confidence than ever before.
Becoming a CRSP
Craig admits that becoming a CRSP was no simple task but the benefits outweigh the process.
"The CRSP designation gave me the confidence I needed, now people know that I'm serious about my career," says Craig.
Here are Craig's tips to becoming a confident CRSP:
1. Be Prepared: "From the minute you consider applying for the designation begin to keep everything," says Craig. That's what he did and that made applying so much easier because he didn't have to go tracking down the documentation he required.
2. Have Support: Craig and his colleagues created their own support group as they went through the entire process together, receiving additional support from their supervisor, who is also a CRSP was an added bonus.  They studied together and gave each other much needed moral encouragement and advice. All three are now CRSPs. 
3. Use Resources Provided: With so many resources available to applicants Craig urges to "use them!" For Craig the resources were extremely beneficial. He also took a prep course but emphasizes that the resources available from the BCRSP website were key to him being prepared. 
4. Just Do It: Only you know when you're ready but don't let the fear stop you from trying," explains Craig. "It wasn't easy, but it definitely wasn't as hard as I'd made it out to be."
Congratulations to new CRSP Craig McGrath who finally faced his fear and continues to protect with confidence.
Do you have a great CRSP story that you'd like to share? Email: mycrsp@bcrsp.com and tell us about it. For more information on becoming a CRSP visit: www.bcrsp.ca