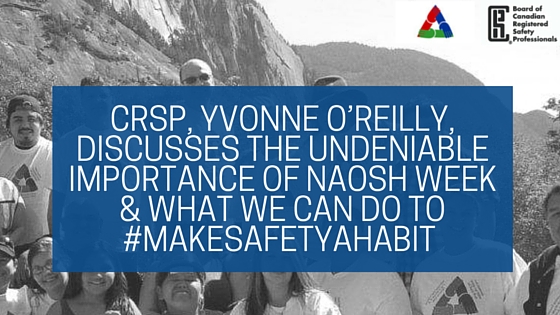 This year's North American Occupational Safety and Health Week (NAOSH Week) is approaching May 1-7, 2016. The goal of this annual week is to focus employers, workers, partners, and the public  on the importance of preventing injury and illness in the workplace, at  home, and in the community. When you consider that on  average three Canadians die each day from a workplace accident, the importance of NAOSH Week is undeniable.
NAOSH Week was first launched in June 1997, marked by an agreement between Canada, the United States and Mexico. The Canadian Society of Safety Engineering (CSSE) is the leading organization for NAOSH Week. Together with NAOSH Week partners the Canadian Centre for Occupational Health and Safety (CCOHS), Human Resources and Social Development Canada's (HRSDC) Labour Program, Threads of Life, and the American Society of Safety Engineers (ASSE), the focus is on promoting  the goals of NAOSH Week.
The success of NAOSH Week is rooted in a community–based approach. Across the country, NAOSH Week events and activities are coordinated by local, provincial and/or regional committees, comprised primarily of volunteers, who share a focus and vision of safer workplaces and communities.  This year's NAOSH Week theme is 'Make Safety a Habit.'
 "Creating a conversation and general awareness is so important and necessary to take safety to the next level," says Yvonne O'Reilly. NAOSH Week allows safety professionals to put a focus on safety, not just for one week, but to encourage commitments within workplaces, organizations, and communities all year long."
Yvonne, who is the Chair of the CSSE National NAOSH Week Committee and a Canadian Registered Safety Professional (CRSP) thinks that every CRSP can do something during NAOSH Week to highlight safety  within their own companies and/or communities.
"I strongly encourage CRSPs to volunteer to promote NAOSH Week in any way they can," says Yvonne. "This is also a time when they can highlight their accomplishments for the entire year, and communicate new ones, if they're excited about it, others will be too."
NAOSH Week promotion ideas include staff barbecues, emergency preparedness drills, safety video competitions, PPE fashion shows, and take-home quizzes.
This year the NAOSH Week national launch event will take place in Ottawa, Ontario with a ceremony to mark the occasion. In attendance will be members of government, keynote speakers and some of Canada's top employers. The idea is to begin or continue the dialogue, especially beyond the regular safety professional.
A panel discussion, which will feature industry representatives including Dave Turner, BCRSP Governing Board Chair, will also take place.  The panel discussion will revolve around  the evolution, trends and future goals in occupational health and safety.
Yvonne also hopes that companies will celebrate beyond the week and truly 'Make Safety a Habit,' throughout the entire year.
Events will be taking place throughout  the week across North America, including many which will highlight the Safety Professional on Wednesday, May 4th which is Health and Safety Professional Day. Threads of Life whose mission is to help families heal through a community of support and to promote the elimination of life-altering workplace injuries, illnesses, and deaths. They also hold the annual Steps for Life Walk fundraising event in May. Walks will be taking place across Canada around NAOSH Week.  
"NAOSH Week gives us the chance to focus on safer communities beginning with the workplace," says Yvonne.
For more information on NAOSH Week and a list of events taking place visit: http://www.naosh.org