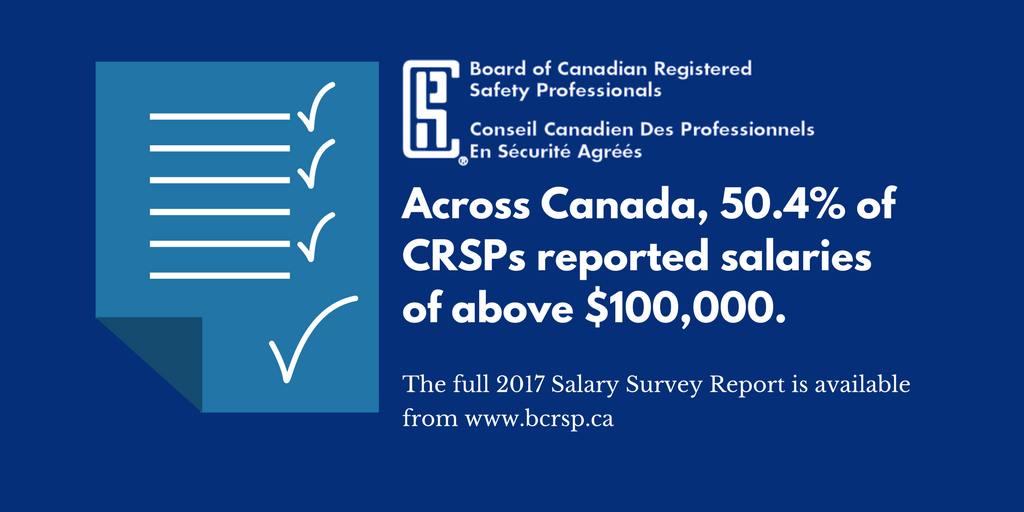 The 2017 CRSP Salary Survey published by the Board of Canadian Registered Safety Professionals (BCRSP) reveals that 91.6% of respondents are satisfied or more than satisfied with their career in occupational health and safety.
The 2017 Salary Survey, is conducted every second year and highlights key demographic and employment variables of CRSPs from across Canada.
Across Canada, 50.4% of respondents reported salaries of above $100,000. On average, salaries were higher in Western Canada compared to the other regions. As anticipated, however, since 2015 respondents from the petroleum sector reproted fewer salary increases (16.1%).
A total of 4,949 invitations to complete the survey online were distributed to CRSPs from across Canada with a response rate of 28.2%. The 2017 Salary Survey is based on similar surveys that have been conducted in every other year since 2005.
The 2017 Salary Survey and the findings serve as a valuable tool for CRSPs, human resource departments, senior managers and the public in terms of assessing employment trends/settings and salary comparisons within the industry. In addition to the full published report, a salary survey search tool, which allows the user to segment salary data by province, sector, and other variables, is available on the BCRSP website.